Northamptonshire police HQ move 'unnecessary', say police federation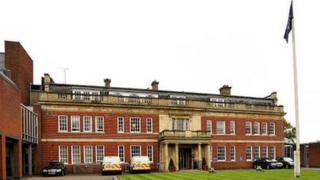 A plan to relocate a police headquarters within the next two years is unnecessary, police federation officials have said.
Police and Crime Commissioner (PCC) Adam Simmonds is proposing to leave Northamptonshire police's base at Wootton Hall, Northampton.
Leonie Tromans, chair of the force's Police Federation, said its headquarters were "fit for purpose".
A PCC spokesman said the current building was no longer suitable.
"It is a rambling stately home and in terms of location, style and running costs it makes more sense to have a much more functional and less glamorous building," said the spokesman.
"We're in an elderly collection of buildings in not the best location."
'Massive implications'
Sites outside Northampton are being considered, the spokesman said.
"It's a large county and Northampton is not in the centre," he said. "It's about where we can best serve the public."
But Ms Tromans said the current headquarters was "fit for purpose" as a police base.
She estimated a new building could cost between £5m and £10m and thought the timescale for such a move was "too tight".
She added: "To me, having a headquarters that is a stately home in a rural county has a message that is synonymous with the county we police.
"The staff implications are massive. Some would retire rather than move and some people, like those who bike to work, wouldn't be able to afford to move."
Mr Simmonds' spokesman said he did not know the projected cost of the move but it would be a "functional building secured at modest cost".
Up to 400 staff who work in the force's control room, forensics department, information technology, administration and human resources sections could be affected.
In September, Mr Simmonds said the force faced a financial shortfall of £21m over the next four years.