Ding family: 'Unforgiveable' deaths 'will haunt for ever'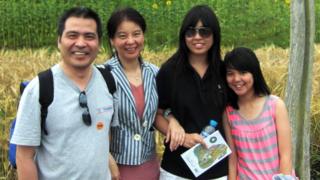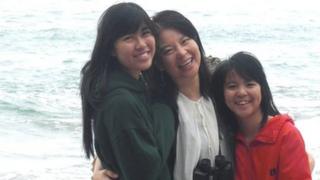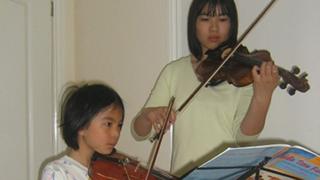 On the afternoon of 1 May 2011, Jason Horsley was just a concerned neighbour looking out for the family who lived across the road.
Jifeng "Jeff" Ding, his wife Ge "Helen" Chui and their daughters Xing and Alice had not been seen or heard from for a couple of days, and Xing's friends had started to worry.
"I rang the doorbell and they didn't answer. I called out their names - no response," he said.
"I unbolted the gate and looked in the kitchen window.
"I could see like a brown gunk on the floor; at first I thought a radiator had probably fallen off the wall.
"But then I looked harder and I noticed what looked like a leg. I ran straight back home and called police."
In the "panic" that followed, police broke into the house in Pioneer Close, Wootton, Northampton, and found the bodies of Jeff and Helen slumped in their kitchen.
'So graphic'
Running upstairs, an officer let out a warning to two people in a bedroom before realising, horrified, that they were two dead children.
Mr Horsley had stumbled upon a "massacre" - an entire family stabbed to death with "ruthless efficiency" on a bank holiday weekend.
A knife had been plunged a total of 51 times into four people who must have spent their final moments not just terrified for themselves, but for those they loved.
The killer had been utterly indiscriminate, wiping out Jeff and Helen before killing their petrified 18-year-old daughter Xing and her 12-year-old sister Alice as they tried to call police.
Photographs released to the media showed the Dings on holidays and on country walks, arm in arm, hugging, always with beaming smiles.
They were described by family and friends as hard-working, decent, talented.
"The Dings were a very quiet family, very nice," said Mr Horsley.
"Always polite, very pleasant. The children were lovely. It was difficult to think something of this magnitude and so graphic had happened."
'Middle of a nightmare'
Gill Amos, a neighbour and friend of the family, said children who had been playing outside were "sheltered" in one back garden as police cars and ambulances filled the cul-de-sac.
"Every community will get a tragedy at some time but... it was a like a nightmare, worse than any nightmare you'd thought of," she said.
"I used to wake up in the morning after a really fitful night's sleep and think 'Did that really happen? Yes, I am actually in the middle of a nightmare'."
Both chemistry graduates, Jeff had worked as a university lecturer - first at Northampton, and then Manchester Metropolitan University - while Helen taught Mandarin at Alice's school.
Xing and Alice were doing well at school, with Xing securing a place at Nottingham to study medicine.
Asked to describe the A-level student, Northampton High School head teacher Sarah Dixon broke into a smile.
"Xing was so bright and so much fun, she was a lovely girl, she was both a serious academic and a really entertaining companion," she said.
"She had so much going for her which made it feel particularly galling that such a dreadful thing could happen to such a bright spirit."
'Unforgiveable'
Ms Dixon described the "challenge" of breaking news of the deaths to pupils at a school assembly the day after Xing's body was discovered.
"It was absolutely devastating," she said.
"I broke the news and celebrated the life of Xing and tried to comfort the girls by saying how fortunate we were to have known Xing at all.
"Coming out of that assembly, they were all terribly moved."
Xing's friends were granted special consideration during their A-level exams and Xing was posthumously awarded top grades.
At that time, in August 2011, the Dings' killer - the most wanted man in the UK - was living rough in Morocco.
Anxiang Du had once been in business with the Dings, but their relationship had turned sour and on 28 April, 2011, he had lost his final chance to win compensation through the courts.
The next day, he turned up in Pioneer Close and killed the family.
"I find that unforgiveable," said Glyn Timmins, the now retired detective superintendent who initially investigated the case.
"I cannot ever reconcile myself with the murder of those two girls.
"I can understand how adults fall out, I can understand how things get out of hand in the spur of the moment.
"I've dealt with all that kind of thing. But the murder of those two girls in their bedroom, helpless - it beggars belief.
"It's something that will be on my mind for ever. I'll never forget it, and it'll go with me for the rest of my life."