Northamptonshire cricket club's £1m council loan discussed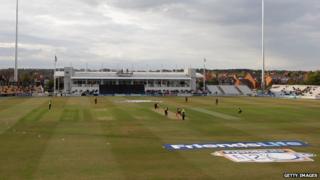 A loan of up to £1m to build a permanent stand at Northamptonshire's senior cricket ground looks set to be made by the county council.
The council's cabinet has been recommended to approve the plan at its meeting later.
A 950-seat stand at the 6,000 capacity Wantage Road ground would be completed by the start of next season, in April.
The club said it cannot fund the work and the council accepts a 1,200 seat temporary stand needs replacing.
Northamptonshire's cabinet are recommended to make an offer of the loan "subject to appropriate security being obtained" because of the contribution the cricket club makes to economic development in the county.
'Unfit for purpose'
The negotiators will "carry out appropriate financial and legal due diligence", the report to cabinet said.
"The current temporary stand erected in 2009 is not fit for purpose. This has been confirmed by Northampton Borough Council's health and safety officer," the report says.
"The temporary stand has always been a favoured viewing choice for cricket watchers.
"It would be particularly damaging to lose so much capacity at a time when the club are the current t20 Champions."
The loan will be repaid at a market rate, plus a margin, the cabinet will be told.