Gipsy Moth aircraft crash near Daventry due to engine failure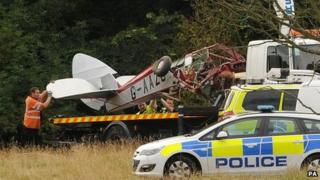 A vintage airplane crash, in which a boy of 11 and the pilot were seriously injured, was due to engine failure, a report has found
The 1930 Gipsy Moth came down near Canons Ashby House, near Daventry, Northamptonshire on 12 August.
The Air Accidents Investigation Branch (AAIB) found the plane climbed to 1,200 ft and then manoeuvred to the left when the engine suddenly stopped.
It crashed into a grass bank. No reason for the engine failure has been found.
The AAIB report said the aircraft had previously been "consistently reliable".
The 39-year-old male pilot and the boy were seriously injured and received hospital treatment, said the report.
At the time of the crash the BBC reported they had received serious, but non life-threatening injuries.
A woman who lives near the scene, who declined to be named, said she saw a plane fall from the sky, narrowly missing a lake in the grounds of the manor.
She added: "It was a biplane, and suddenly the engine cut out. It just spiralled out of the sky.
"It's a good job it didn't come down in the lake."
Canons Ashby House, which is a National Trust property, was built by the Dryden family in the 1550s.