NHS Wales boss David Sissling takes over at Kettering General Hospital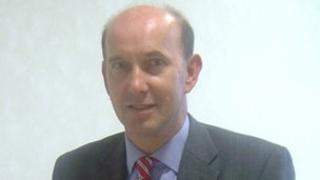 The chief executive of NHS Wales is leaving to take up a new post as head of a Northamptonshire hospital.
David Sissling has been appointed as chief executive of Kettering General Hospital NHS Foundation Trust.
The previous chief executive Lorene Read stepped down in April after the hospital failed to achieve government targets for A&E waiting times.
Mr Sissling is due to leave his current job at the end of March and begin his new post in April.
Fiona Wise will remain as interim chief executive until then.
Mr Sissling was previously chief executive of Northamptonshire Health Authority and then Leicestershire, Northamptonshire and Rutland Strategic Health Authority. His family home is in the East Midlands.
'Tenacious commitment'
"This has been a very difficult decision for me and not without mixed feelings," he said.
"I am very proud of what we have achieved in Wales over the last three years with the introduction of new legislation, much-needed service change and an increasing focus on the safety and quality of care we provide to patients."
Sir Derek Jones, Welsh government permanent secretary, said Mr Sissling had brought "tenacious commitment and huge experience" to the job.
"I wish him great success in his new role which will allow him to rejoin his family in the Midlands," he said.
Graham Forster, chairman of Kettering General Hospital NHS Foundation Trust, said: "David brings a wealth of experience and knowledge to our trust at a time when we know we face some significant challenges.
"Kettering General Hospital is a great hospital, we have the potential to be excellent and I am confident that in David we have found a chief executive who can help us get there."