Woman robbed at knifepoint offered new World War medals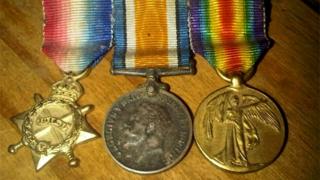 Members of an online forum have offered to pay for replicas of medals stolen from a 90-year-old woman at knifepoint.
The four medals were taken from a house in Debdale Road, Northampton, on 22 December.
The 1914-15 Star, British War and Victory medals belonged to the victim's father, and a World War Two Burma Star to her late husband.
Her son, Nick Durant, said he was "delighted" with the gesture from members of the Military Trader forum.
He said his mother had been "traumatised" by the robbery, which police said was carried out by a masked man between 08:30 and 09:00 GMT.
'Global response'
"It was terrible," Mr Durant said. "You hear these things but never think they're coming your way, it's not good at all.
"They were treasured possessions."
He said nothing could be done to replace the original medals but he was touched by the offer of the replicas.
Nigel Flitters, of Military Trader, said users of the forum had been "horrified" by the incident.
"There was a lot of response from our members all over the world - Argentina, America, Europe," Mr Flitters said.
"It's a terrible thing that has happened and hopefully we can help restore her faith in human beings."
The medals will cost about £170 and should be presented to the victim within the next few weeks, Mr Flitters said.
Northamptonshire Police said a man had been arrested in relation to the theft, but no further action would be taken.
A spokesperson said the force would still like to hear from anyone who has information about the incident.