Daventry's £10m University Technical College is opened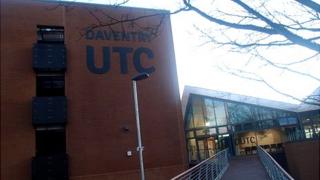 A new £10m specialist technical college in the south of Northamptonshire has been officially opened.
The University Technical College (UTC) in Daventry, which provides education for 14-to-19-year-olds, welcomed its first intake of students in September.
Pupils will learn about new technologies in engineering, construction and environmental sustainability and get work experience.
The UTC is being run by Northampton University for the first term.
The University of Northampton is working in partnership with Moulton College - the lead sponsor - Daventry District Council and Northamptonshire County Council in what is being billed as an attempt to offer young people an alternative to the traditional learning experience.
David Edmondson, principal of Daventry UTC, said: "The building is outstanding and is testament to the hard work and dedication from all involved in making this a reality.
"The new building combined with the superb array of specialist equipment, exciting and integrated curriculum and wonderful staff, will provide a tremendous learning environment for current and future students."