Corby's Geddington Road bridge: 'Cost-share deal' close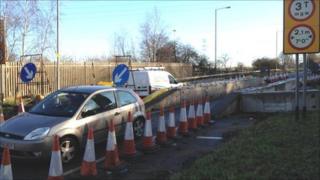 A row over repairs to a bridge in Corby which is closed to lorries because it needs £1m strengthening works, could be resolved by April.
Restrictions on Geddington Road bridge have prevented vehicles weighing more than three tonnes from crossing, since January 2011.
A "cost-sharing deal" between Northamptonshire County Council and the bridge's owner Tata Steel is now close.
Councillor Michael Clarke said it was "a significant step".
Lorries have had to take a three-mile diversion and concrete chicane blocks were put on the bridge to stop trucks crossing.
'Enormous relief'
In March, the council said it would pursue an enforcement action to get Tata Steel Ltd to carry out the strengthening works.
The two parties have now "agreed in principle to a cost-sharing proposal", according to the council.
Mr Clarke, council cabinet member, said: "I'm delighted that we have taken this significant step towards the road being fully open, which will be an enormous relief to the people of Corby, businesses and, indeed, anyone who uses the Geddington Road.
"I'm pleased that we have been able to work together with Tata to agree in principle to an arrangement and I look forward to the finer details now being worked out."
Details of the deal are currently being treated as "confidentially commercial" by the council, but if approved work is scheduled to start "early in the financial year".
The bridge was built in 1936 and has been found to have structural deficiencies that make it unsuitable for modern lorries.