Corby cannabis factory raid on terraced house after tip-off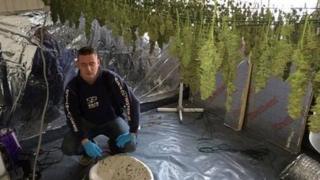 Five men were arrested when police discovered a cannabis factory during a raid on a house in Northamptonshire.
The officers, responding to a tip-off, raided the terraced house in Dorking Walk, Corby and found two rooms full of plants which were removed.
The electricity supply had been bypassed to feed power to a lighting and heating system in the rooms.
The men have been taken into custody and are being questioned about the drugs, police said.