Northampton Kutumb Centre: Fundraising campaign for Hindu temple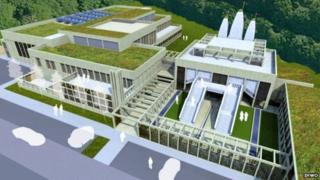 A campaign to raise £12m to build a community and sports centre and Hindu temple in Northampton has been launched.
The "landmark" Kutumb Centre will be built off Lings Way, Weston Favell.
The campaign to raise the funds was launched at Northampton College on Friday night.
The scheme is being led by The Indian Hindu Welfare Organisation (IHWO).
Speaking at the launch Northampton North MP Michael Ellis said the centre "will be a wonderful resource for our entire community in Northampton".
Neelam Aggarwal-Singh MBE , chairperson of IHWO, added: "Once built, the Northampton Kutumb Centre will be an innovative and eco-friendly landmark complex.
'Spectacular temple'
"It will be open to people of all ages and backgrounds and will encompass state-of-the-art sports, leisure, educational and enterprise facilities, as well as a spectacular Hindu temple."
Danny Parmar, project manager, said: "Kutumb means 'wider family' so it's very appropriate for our centre because it is for the wider community of Northampton and not just the Hindus... we want to welcome everyone to use it."
The complex will also include banqueting facilities, space for lectures and theatre productions, a mini-cinema and a crèche.