Northamptonshire County Council's £47m office plan submitted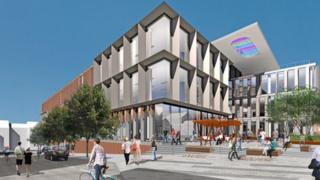 Plans for a £47m county council office in Northampton town centre have been submitted to planners, the authority has announced.
Northamptonshire County Council said the building on derelict land in Angel Street would replace 12 "ageing" buildings it could "no longer afford".
A spokesman said it would save £54m in maintenance costs over 30 years.
He said running costs would be "significantly less" than the £53,000 a week for its current portfolio.
The proposed new county council office building will be constructed on land behind the current County Hall.
'Not sustainable'
The scheme, known as Project Angel, will allow the council's 2,000 Northampton-based staff to be centralised, which it is estimated will also boost town trade by up to £12m.
Council leader Jim Harker said the amount the council currently spent on maintenance was "clearly not sustainable".
"Not only will this scheme bring thousands of people and hence spending power into the town but also offers us the opportunity to get out of the buildings we simply can no longer afford to keep," he said.
"By investing now in one new energy efficient and fit for purpose office we will save taxpayers money for years to come."
The plans have been submitted to Northampton Borough Council for consideration.
If approved, construction is set to begin in January 2015 and finish by the end of 2016.