Mavis Clift died in arson attack after 'police failures'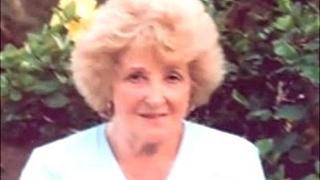 Systematic failures by police in effectively protecting victims of domestic abuse led to the death of a 75-year-old woman in an arson attack, an inquest jury has found.
The jury found Mavis Clift was unlawfully killed in a fire at her home in Northampton, on 1 January 2008.
Paul Barber, her son-in-law, had been accused of her murder but died before standing trial.
Northamptonshire Police admitted failings in its policing.
The inquest, held in Northampton, heard Mr Barber started harassing his wife, Susan Robinson, after they separated early in 2007.
The jury was told that the fire broke out after petrol was poured through the letterbox of Mrs Clift's home, in the Kingsthorpe area.
Ms Robinson had been the target, the inquest heard.
In its verdict, the jury criticised "ineffective computer systems" at all stages of the process and insufficient development training of staff in issues of domestic abuse.
There was also a concentration on incident resolution, at the expense of victim support.
'Unacceptable risk'
Following the verdict, the Independent Police Complaints Commission (IPCC) said its inquiry found a "significant number of failings and missed opportunities" in the way police handled the case.
The IPCC investigation found that:
There were repeated occasions when Ms Robinson was reporting domestic abuse incidents but they were wrongly categorised by control room staff
There was only limited evidence that control room staff linked new incidents with previous ones
A problem with transferring and updating information to the force intelligence system led to confusion when Ms Robinson reported that Mr Barber was breaching his bail conditions
On several occasions there was a failure by officers to secure evidence from witnesses in relation to Mr Barber's behaviour.
IPCC commissioner Derrick Campbell said: "There were a number of occasions where if thorough inquires had been conducted there may have been an opportunity to charge Paul Barber and place him before a court earlier.
"We upheld the family's complaint that police had failed to listen to her properly, failed to protect her, and failed to link incidents prior to the fatal house fire."
Assistant Chief Constable Russ Foster said: "I reiterate the apology given by the Chief Constable in 2009 as it became abundantly clear after the death of Mrs Clift that our computer systems, processes, training and awareness of our staff presented an unacceptable level of risk, particularly to repeat victims of domestic abuse."