Corby's Solway Foods considers 566 job cuts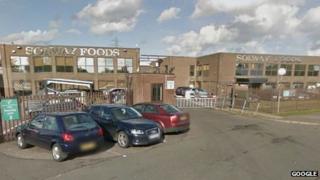 More than 500 jobs could be axed by a Northamptonshire food company, bosses have announced.
Solway Foods, of Corby, said more than half of its 900 staff are set to be made redundant next month.
A taskforce, including Corby's Labour MP Andy Sawford, is looking to save as many jobs as possible.
Mr Sawford said the job cuts were due to the company losing a major contract. Solway Foods said it was now inviting voluntary redundancies.
A spokesman for Solway Foods, which makes salads, said in a statement: "Our consultation is progressing on plan and there has been a positive dialogue with our colleagues, the union and our customers.
"No firm decisions about the future of the site have been made. However, we have had to make contingency plans in advance of any final outcomes to ensure we retain strong ongoing relationships with our customers.
"Once the consultation period has ended, there will be a necessity to reduce the number of employees who work in these affected areas, which could be up to 500 employees by mid-April. These will initially be sought with voluntary redundancies.
"The Corby site is unviable, it requires ongoing substantial additional funding, and there is a risk that the site could close."
It is understood that up to 566 jobs could go.
Ronnie Draper, general secretary of the Bakers, Food and Allied Workers Union - which represents about 500 workers at the plant - called on the company to do more to protect jobs.
"It is a massive blow to the town," he said.
"It's not just about the 566 jobs, but also the 566 families and local businesses will suffer as well.
"There are lots and lots of repercussions and, when these jobs go, what is going to be left?"
Mr Sawford said the taskforce would continue to work to "keep as many jobs as possible and to support those affected by redundancies".
Leader of Corby Borough Council Tom Beattie said he was "very sorry and disappointed" to hear the news.
He added: "This is devastating news for any worker, which is why the taskforce will continue to do whatever they can to support those concerned and keep as many jobs as possible and help prevent further redundancies."