'Money laundering' nightclub in Northampton closed down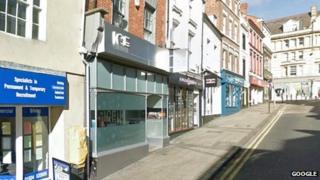 A nightclub in Northampton that was used for laundering the proceeds of large-scale drug dealing has closed.
Northampton Council's licensing committee was told the lease for the Ice Lounge, in Bridge Street, had been returned to the owners of the building.
It had been held by Joseph O'Neill who was jailed for 20 years for conspiracy to supply cocaine.
Police wanted the licence revoked but were told it had been forfeited and the club had closed down.
The committee heard that the building's owners had co-operated fully with police and did not know the club was being used to launder money.
The meeting said any future venture should have CCTV covering all areas, and alcohol should be served in plastic rather than glass containers.
The report prepared by police for the local authority said detectives believed O'Neill, 36, took over the Ice Lounge in September 2011 with the "profits from the drug supply operation".
It said the club was operated by an "organised crime gang" and was used to launder the "proceeds of crime, in particular... trafficking Class A drugs into the county of Northamptonshire and beyond".