Wellingborough industrial estate blaze plant monitoring continues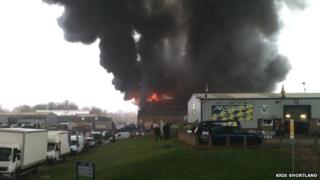 Four days after flames engulfed a recycling plant in Northamptonshire, the fire service is still at the site monitoring potential "hot spots".
The blaze at Environmental Storage Solutions on the Leyland Trading Estate, Wellingborough, started at about 08:30 BST on Friday.
At its height more than 60 firefighters battled the fire, the cause of which is still being investigated.
The building is expected to be handed back to its owners on Wednesday.
The fire broke out in a factory on Irthlingborough Road, which recycles refrigeration units.
A plume of black smoke was described at the time as "hazardous", and residents living nearby were warned to keep doors and windows closed.
Paul Ainge, from the county's fire service said: "This was a significant fire and we had more than 22 specialist resources on-site.
"By the end of Friday we'd reduced that to four appliances and that was reduced further for what we call 'after-fire investigations'."
Following an inspection earlier it was hoped the building could be handed back to its owners to prepare for demolition.
However, the fire service said a further inspection was required before a decision to withdraw completely from the site could be taken.
Once the building is handed over, structural engineers are expected to be brought in to draw up plans to demolish the unit.
"There have been some samples taken of what is believed to be asbestos, and that will assist in the assessment of how the demolition is undertaken," Mr Ainge said.
"If there is a risk, they will look to manage that."