Extradition couple Paul and Sandra Dunham fear arrest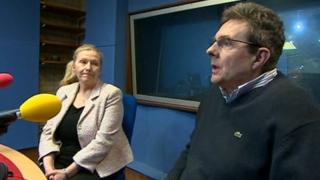 A couple due to be extradited to the US "could be arrested at any point" after failing to have their case heard by the Supreme Court.
Paul and Sandra Dunham, of Northampton, are accused of fraud and money-laundering while working at a US firm.
They asked to take their case to the Supreme Court after their bid to avoid extradition was rejected by the High Court. The application was turned down.
Mr Dunham said it meant that they could be extradited within 28 days.
The 58-year-old was chief executive and president of Pace, a US company manufacturing soldering irons for the electronics industry.
He was indicted on 13 counts of fraud and money-laundering by a grand jury in Maryland, in December 2011.
Mrs Dunham, 57, is accused of aiding and abetting him.
'Sleepless night'
The couple have said that they "vehemently reject" the allegations.
At the High Court on Friday, Lord Justice Beaston declared their case did not raise a point of law of general public importance justifying an appeal to the highest court in the land.
He said it began the 28-day period in which extradition must be carried out under the 2003 Extradition Act.
Mr Dunham said he had written to the Home Office requesting 14 days to make an application to the European Court of Human Rights.
"It will be the Court of Human Rights that considers whether they are willing to hear our case," he said.
"We could be arrested at any point now... it could be just a matter of a few hours or a couple of weeks.
"We're making an application under Rule 39 for the court to put in emergency measures to delay our extradition until the court can hear our case.
Expenses 'accounted for'
"We've had a sleepless night, considering the news and all our options. It's very difficult to find the strength."
The Dunhams claim all the expenses payments they received were properly accounted for and approved, and insist there is no case to answer, and that extradition was "disproportionate".
Their barrister told the High Court that a remand facility in the US was unlikely to have adequate medical care for Mr Dunham, who has had series of mini strokes.
But Mr Justice Simon said that to describe the charges as "only an expenses fraud" did not address the gravity and extent of the alleged criminality over a number of years.
He also said Mr Dunham's condition did not approach the threshold beyond which extradition would be deemed unjust or oppressive.