Northampton judge Richard Bray's 'computer' sentences anger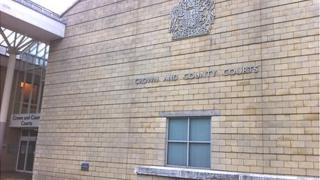 A retiring judge has said sentencing guidelines have become so restrictive they could be imposed by a computer.
Northampton Crown Court judge Richard Bray, who stood down last week after 30 years on the bench, claimed government policy encouraged lenient jail terms.
He argued that prisoners should serve a greater percentage of their sentence before being released.
The Ministry of Justice said criminals were now more likely to be jailed and to serve longer sentences.
In an interview with BBC Northampton, Mr Bray said: "The average prisoner now doesn't even serve half of his sentence.
"In the old days it used to be closer to two thirds.
Harsher sentences call
"It's certainly disconcerting for a judge to pass a sentence when he doesn't even know how long or how much of it the prisoner is going to serve."
He said new sentencing guidelines were too restrictive and added: "You might as well use a computer to sentence."
He called for harsher sentences for those who steal or clone credit cards.
"The crime of the future is going to be fraud, it's going to be organised fraud on a very serious scale and this is what worries me about the sentencing guidelines, which seem to regard fraud as a relatively minor matter in which many cases are resolved with a community order," he said.
Justice Minister Jeremy Wright told the BBC: "Since 2010, criminals are more likely to go to prison and for longer.
"We continue to overhaul sentencing to make sure judges have tough penalties available to them.
"It's right that the most serious offenders spend longer behind bars and all offenders are monitored in the community upon release.
"We are clamping down on the use of cautions and reviewing the whole spectrum of out of court disposals so we have clarity and consistency and most importantly we have a system that victims and the public have confidence in."