Paul and Sandra Dunham to be extradited to US on fraud charges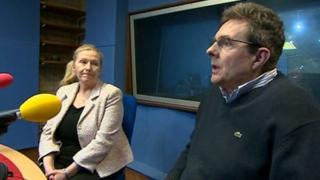 A couple are to be arrested and sent to the US after failing in their last bid to avoid extradition on fraud charges.
Paul and Sandra Dunham, of Northampton, are accused of fraud and money-laundering while working at a US firm.
The European Court of Human Rights had been their last hope in avoiding extradition. It has said it would not get involved in their case.
Mr Dunham told BBC Radio Northampton: "We were devastated and disgusted at the decision."
He added: "We feel totally let down by our government."
The 58-year-old was chief executive and president of Pace, a US company manufacturing soldering irons for the electronics industry.
He was indicted on 13 counts of fraud and money-laundering by a grand jury in Maryland, in December 2011.
Mrs Dunham, 57, is accused of aiding and abetting him.
The couple have said that they "vehemently reject" the allegations and opposed the process of being remanded in prison in the US for what they expect to be several months before any trial takes place.
"This was a shareholder dispute between two business owners, and the whole thing has escalated to the point of complete insanity," Mr Dunham said.
The Dunham's case against extradition was rejected by the High Court in March.
A subsequent appeal was turned down earlier this month.
Lord Justice Beaston, sitting at the High Court, said Mr Dunham's health problems following a series of mini strokes did not approach the threshold beyond which extradition would be deemed unjust or oppressive.