Silverstone racing circuit investor talks break down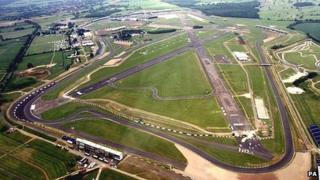 Plans to develop Silverstone racing circuit's facilities have faced a setback after investor talks failed.
The British Racing Drivers' Club (BRDC) signed a £32m deal last year for MEPC to build hotels and warehouses on the Northamptonshire circuit's estate.
But talks with a second investor to build a welcome centre and kart track, among other track-side facilities, have broken down, a spokesman said.
However, BRDC said the British Formula 1 Grand Prix's future was safe.
The circuit developments, which also include a heritage centre and track-side hotel, form part of BRDC's 10-year "masterplan" for the site, which could create 8,400 jobs.
Last year part of it was realised when BRDC signed a 999-year lease with property firm MEPC to build on Silverstone's 760-acre estate.
'Enormous potential'
It also wanted to get another investor on board to buy its Silverstone Circuits Limited (SCL) business, which maintains the circuit, and improve the circuit's track-side offering.
But BRDC chairman John Grant said talks had failed with the unnamed investor.
"With or without another investor, the futures of both Silverstone and the British Grand Prix are secure," he said.
"The circuit business has enormous potential and MEPC's development of Silverstone Park will enhance the circuit's image and value over the next several years.
"The BRDC will now retain full ownership of SCL, whose highly-experienced management team will continue to operate, promote and further develop Silverstone as a premier racing destination."
A circuit spokesman said the track-side facilities were still part of the "masterplan", but third-party investment would have sped up the process of them being built.
He said a £9.1m Heritage Lottery grant also given to Silverstone to build a heritage centre is still secure and is being used to draw-up a site feasibility study.