Paul and Sandra Dunham US extradition 'this week'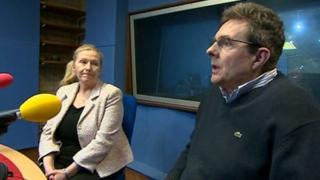 A British couple have been told to hand themselves in to police on Thursday in order to be extradited to the US to face fraud charges.
Paul and Sandra Dunham, of Northampton, are accused of fraud and money-laundering while working at a US firm.
Last month the European Court of Human Rights, which had been the couple's last hope in avoiding extradition, said it would not get involved in the case.
Mr Dunham said they would be flown to the US from Heathrow on the same day.
The 58-year-old was chief executive and president of Pace, a US company manufacturing soldering irons for the electronics industry.
'Horrific situation'
He was indicted on 13 counts of fraud and money-laundering by a grand jury in Maryland in December 2011.
Mrs Dunham, 58, is accused of aiding and abetting him.
The couple's fight against extradition was rejected by both the High Court and the European Court of Human Rights earlier this year.
They "vehemently reject" the allegations and said extradition could potentially see them remanded in separate cells in US prison "with murderers and rapists" for more than a year before any trial.
Mr Dunham said they could be granted bail by a court 24 hours after arrival, but without being able to take any money into the country they would not be able to afford to live.
Mr Dunham said the couple's families were "devastated" the extradition had not been stopped.
He said Conservative MP Andrea Leadsom, who has campaigned on behalf of the couple, wrote to Home Secretary Theresa May last week, asking to meet to discuss concerns about the treatment the Dunhams may receive in US custody.
Ms Leadsom has yet to comment.
A Home Office spokeswoman said the practicalities of the Dunham's extradition was a matter for the police and the US authorities and they had no further comment.