Rushden Lakes retail park gets government approval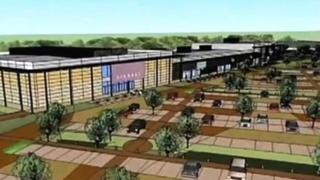 A £50m shopping and leisure development has been approved by Communities Secretary Eric Pickles.
The Rushden Lakes park at the old Skew Bridge ski club site in Northamptonshire will house shops, restaurants and a visitor centre and is predicted to create 2,000 jobs.
A public inquiry was held last summer after concerns about the development's impact on nearby town centres.
Mr Pickles was due to visit the site on Thursday.
The site will also feature restaurants, a home and garden centre, hotel, leisure centre, boathouse and a 1,300-space car park.
The matter was referred to Mr Pickles, who called in the application for further scrutiny.
The Department for Communities and Local Government said Mr Pickles agreed with independent planning inspector Harold Stephens that the effect on Corby, Kettering and Northampton town centres would "not be significant".
The application by LXB RP (Rushden) Ltd for the derelict brownfield site was submitted in 2011.
David Mackintosh, leader of Northampton Borough Council, said although it was "disappointed" by the decision it could now move forward with its plans.
"One of the remaining big pieces in the jigsaw for the development of Northampton is the old Greyfriars bus station site and the extension of the Grosvenor Centre and now there is no reason not to proceed with that," he said.
"There are no ifs, no buts, we need that development to happen."