Silverstone unveils new business hub image plans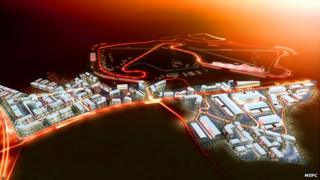 Artist impressions of what Silverstone's high-tech business park will look like have been revealed ahead of its 50th F1 Grand Prix this weekend.
The British Racing Drivers' Club (BRDC) signed a £32m deal last year for MEPC to build facilities on the Northamptonshire circuit's estate.
MEPC said it had made "significant progress" in creating a world-leading technology and motorsport centre.
It added in 10 years it believes it will support 200 firms and 8,000 jobs.
The overall land mass of Silverstone as a venue will effectively double in size when the Silverstone Park project is completed. It is due to open in phases over the next decade.
A set of commissioned images of the site were shown to senior figures from the engineering and automotive sectors at an event on Wednesday, which have now been released.
The park's creation is being funded by property investors MEPC, with them having bought a 999-year lease of the land off the BRDC.
The newly-opened Silverstone University Technical College on the site will look to produce the next generation of engineers, MEPC said.