4,000 illicit cigarettes seized in Northamptonshire raids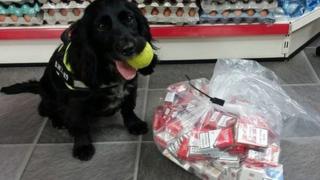 More than 4,000 packets of illicit cigarettes, worth up to £28,000, have been seized in Northamptonshire.
The raids of shops in Kettering, Corby, Wellingborough and Northampton also recovered 175 pouches of illicit hand rolling tobacco.
The operation, which took place at the weekend, involved the use of dogs trained to help uncover hidden tobacco.
Two of the dogs, sprocker spaniel Phoebe and springer spaniel Scamp, found concealed stashes in seven shops.
Northamptonshire County Council's trading standards service worked on the operation with Northamptonshire Police, the Trading Standards Institute and HM Revenue and Customs.
Andre Gonzalez de Savage, the council's cabinet member for public protection, said: "Those involved in dealing in illegal tobacco may be encouraging people, including children to smoke by providing a cheap source.
"The detection dogs can find tobacco and cigarettes even if hidden in the most unlikely places."