'Toilet phone' teacher Andrew Eades gets life ban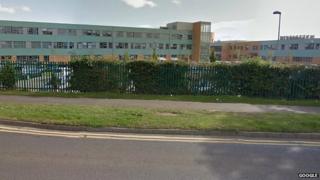 A teacher who set his mobile phone to record in a secondary school's toilets has been banned from the profession for life.
Andrew Eades, 26, admitted installing his phone in a staff toilet at Kingsthorpe College, Northampton, in January 2013.
A disciplinary panel heard Eades was convicted of three voyeurism offences at Northampton Crown Court in December.
The panel said Eades was "responsible for sexually motivated misconduct".
The National College for Teaching and Leadership (NCTL) professional conduct panel ordered Eades to be prohibited from teaching in any school, sixth form college, relevant youth accommodation or children's home in England.
Escalation fears
The panel also said he could not apply for restoration of his eligibility to teach.
It was concerned his "deliberate" and "repeated" actions could have "escalated" had his behaviour not been discovered.
The panel, which sat in Coventry earlier this month, said Eades' conduct "could have caused distress to those who were filmed, including colleagues".
In January 2013 Eades' phone was found set to record at the back of a staff toilet cubicle, which could also be used by pupils at the school.
The newly qualified teacher, who had worked at the school for five months, was arrested by police the next day.
He was suspended, and dismissed by the school in March.
Eades, who admitted two offences of voyeurism in the school and one in a shop, was given a three-year community order at crown court.
Kingsthorpe College principal Debbie Morrison said: "No video evidence of staff using the toilet was found on Mr Eades' phone, but the police did confirm that it was set to record.
"Andrew Eades was CRB checked, so the school had no reason to believe he was capable of such gross misconduct."