Northampton loom band charity top sold back to maker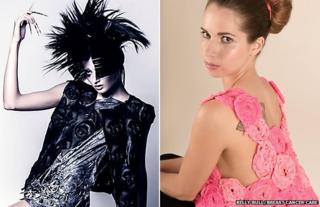 A woman who created and then auctioned for charity a garment made of 27,000 loom bands has bought it back from the buyer.
Kelly Bull, 25, from Barton Seagrave, Northamptonshire, had said she was "disappointed and hurt" after learning the buyer intended to sell the top on.
But he has now returned it to her for half its cost so she can re-auction it for charity.
She initially sold it for £225, half of which will go to Breast Cancer Care.
Ms Bull, a fashion design graduate, said the buyer had emailed her to say he had "no intention to sell it on for profit" and added that he bid "just to 'up' the price".
He suggested she put it up for auction again, so "you get the opportunity for more publicity and extra cash going to charity".
Last time, Ms Bull put a reserve of £100 on the top, to cover the cost of its making, and raised a further £208 from a Just Giving web page.
The BBC has attempted to contact the buyer.