£46m University of Northampton loan recommended for approval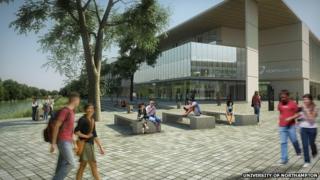 A £46m loan is expected to be agreed this week to help the University of Northampton build a new campus.
The "third party loan", funded through the government's Public Works Loan Board, has been recommended for approval to the borough council.
A report ahead of Wednesday's cabinet meeting says refusing the loan would have "serious implications" for the university development.
The university hopes to open the Waterside campus in 2018.
The council would borrow the money at a low rate and then pass it on to the university.
The project, which is expected to cost £330m, was granted outline planning permission in December.
The new campus will be situated on the Avon Nunn Mills site, where the power station and Avon cosmetics factory were based.
Further funding is expected to come from a bond issue and sales of existing sites.