Uzi and bolt gun handed in during Northamptonshire Police amnesty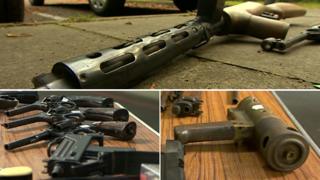 A submachine gun capable of firing hundreds of rounds a minute is among the weapons handed into police as part of an amnesty.
Northamptonshire Police said the Uzi was one of 75 weapons given up in the first week of its campaign.
A samurai sword, a bolt gun used for stunning animals and a machine gun which had been hanging over someone's mantelpiece were also handed in.
Insp Sarah Johnson said she was "delighted" with the response.
"A lady called in to ask us to recover an item, fallen into her possession nearly 10 years previously," she said.
"She was so scared, so concerned that she would be arrested or be in trouble for having this weapon.
"She was so relieved to pass it to somebody where it would be made safe."
The amnesty runs until 28 September.