Loom band top designer Kelly Bull left 'disappointed'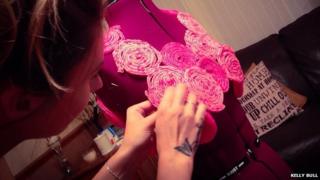 The designer of a charity garment created from 27,000 loom bands is "disappointed" it failed to sell at auction but hopes it will now feature in a catwalk show or exhibition.
Kelly Bull, 25, from Northamptonshire, originally sold the top online for £225 but the buyer returned it so Ms Bull could re-list it to raise more money.
It took the design teacher a month to make the top for Breast Cancer Care.
She said the outcome was "unfortunate" but accepted its "niche market" appeal.
Ms Bull, from Barton Seagrave, said: "I'm really disappointed it failed to sell on its second listing because it took so much time and effort to make.
"It's a bespoke piece of designer clothing, I can only think people either thought it was an imitation following the original listing, or perhaps the craze for loom bands is just dying out."
She added: "It didn't sell and that's fair enough. As an item of clothing it will appeal to a niche market... but it would be great to have a use for it.
"I'm hopeful it will go on display in a gallery or be used in a catwalk show to help to raise awareness of breast cancer, rather than it sitting in a box."