Northampton Royal Mail sorting office school plan approved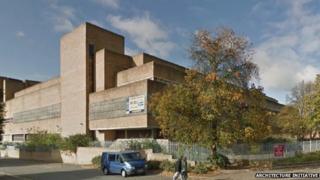 A former Royal Mail sorting office in Northampton is set to be converted into a school, after planning permission was approved.
The proposal is to turn the Barrack Road site into a school for 420 primary pupils, 1,500 secondary pupils and a sixth form for 300.
The county council said it was needed to meet "the rising demand" for places.
Unanimous approval was given, subject to further reports on traffic management and off-street parking.
The proposed school would open in September 2016.
Northamptonshire County Council plans to create 10,000 new primary school places in the county by 2015, to meet what it described as "the rising demand from an increased birth-rate, high levels of in-migration and developments of new housing".
Since 2010, extensions at 20 primary schools in Northampton have been completed or are under way and an office block has been converted into a school.
A spokeswoman for the council said: "The success of that project gave us valuable experience of transforming an unconventional setting into a wonderful learning environment."
More secondary school places are now needed in the town to match the 3,360-place primary school expansion.
The plans for the Barrack Road school site include a private nursery, cafe, gym and seven homes.
Following a public consultation in which residents raised traffic concerns, the council increased on-site parking spaces and the proposed drop-off areas.