Parking permit plan could see Northants residents paying £60 a year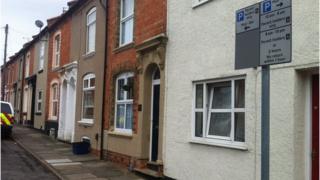 Plans to raise the cost of parking permits in Northamptonshire to £60 have been described as "disturbing" and "grossly unfair".
The county council is consulting on possible changes to permit schemes.
It says price increases are needed to counter a £120,000 shortfall in operational costs.
Proposals include raising fees from £25 to £60 for some schemes and imposing the same charge in areas where parking is currently free.
Prices have not been increased for the past 10 years in most zones.
Peter Jordan, from Victoria Gardens, Northampton, said he already struggles to find a parking space despite having a permit.
He said: "I'm quite disturbed about it. I already pay £25 a year."
Residents in Stoke Bruerne regularly have to compete with tourists for parking spaces and the parish council said parking permits were necessary for a small number of residents to find spaces.
A statement from the parish council said: "It would seem to be grossly unfair these few residents should be penalised by the imposition of charges for permits."
'Financial pressures'
However, Alan Rickets who lives in the village said he would back the increase if it guaranteed him a parking space.
County council member for highways Michael Clark said the proposals were the result of "enormous financial pressures".
He said: "We are no longer in a position where we can subsidise the parking permit scheme by taking money from other budgets."
The county council currently pays £152,479 a year to enforce controlled parking zones, as well as £27,000 on administration costs.
Annual income from parking permits is £58,486 leaving a shortfall of £120,993.