William Heath's Movember mission set to raise more than £5,000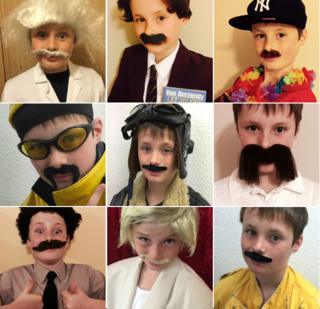 A schoolboy who has been dressing up as a different moustachioed famous face every day this month is set to raise more than £5,000 for charity.
William Heath, 12, from Earls Barton has disguised himself as characters including Ali G, Zorro and Ron Burgundy as part of his Movember campaign.
He is raising money in memory of his grandfather, who died from cancer in February.
William came up with the idea as he cannot grow a moustache himself.
His grandfather, Robin Wickham, died from pancreatic, testicular and prostate cancer.
William has been asking people to donate to The Movember Foundation via his own "Mo Space" page. He is currently ranked the eighth highest fundraiser in the country, with £4,400 in donations.
His mother Clare said the plan had been to have some fun and raise a couple of hundred pounds. The family originally put a message on Facebook asking people to donate to Movember rather than buy William a present for his birthday on 1 November.
But his efforts went viral after the national media picked up on the story.
Mrs Heath said: "William's granddad would have been [very pleased]. I wish we had done it last year because my dad would have loved it. For William to be able to look back at this and see what he did is great."
Messages of support for William have come from as far afield as Afghanistan, New York and Melbourne.