Corby Borough Council 'improved, but risk-averse'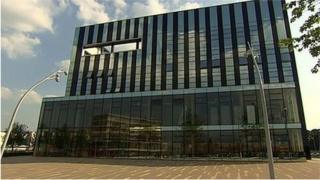 A council criticised over the spiralling cost of a civic building is now "risk averse" and "over cautious", a review has found.
Corby Borough Council was found to have improved, according to an inspection carried out earlier this month.
It came after costs for the Corby Cube, which opened in 2010, increased from £35m to £47m.
Opposition councillors claimed the improvements only came "after the horse has bolted".
The external review, carried out by a panel from the Local Government Association, followed criticism over the spiralling cost and land being sold off cheaply.
'Stable door'
The review identified a "significant and strong evidence of improvement" within the authority.
But it called the authority "over cautious" and "risk averse" in its decision making and said it needed to concentrate more on developing skills and employment in Corby.
Leader of Corby Borough Council, Tom Beattie, said: "We are aware there is still more to do and the review has suggested helpful ways we can move forward."
But the council's Conservative Group said the changes implemented were "basic safeguards" that should already have been in place.
In a statement, it said: "The council's Labour administration have shut the stable door after the horse has bolted and are now expecting a round of applause for this."