Poppy tin thief Darren Bason pleads guilty to supermarket theft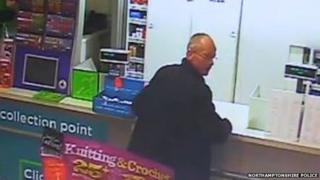 A man who admitted stealing a British Legion Poppy tin from a Northampton supermarket has been fined £175 and given a supervision order by a court.
Darren Bason, 43, was shown on CCTV footage in the Asda store on Harborough Road before and after the tin vanished.
At Northampton Magistrates' Court on Tuesday, he pleaded guilty to theft.
He will be supervised by the Probation Service for six months and must repay the £30 he took from the appeal tin as well as undergoing drug rehabilitation.
Bason surrendered to police after seeing CCTV pictures of his crime on social media.
He went to the cigarette counter at the Asda supermarket in Kingsthorpe at about 22:15 GMT on 30 October, the court heard.
Pay back pledge
When the cashier turned around he untied the cord connecting the poppy appeal collection box to the counter and stole it.
CCTV footage also showed him leaving the shop with the box. Days later, he handed himself in to the police and admitted the theft.
He told the court he had been hungry and had a drug addiction.
He apologised to the magistrates, repeating that he thought what he had done was unforgivable.
He was ordered to repay the £30 to the poppy appeal as part of a £175 fine and costs order.