Judge 'embarrassed' by lack of lunch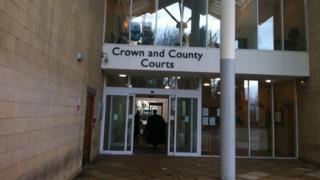 An "embarrassed" judge told jurors at a murder trial to bring packed lunches to court because of government cuts.
Judge Rupert Mayo told the jury at Northampton Crown Court that no catering facilities had been arranged.
On Wednesday, Judge Mayo said: "I am almost too embarrassed to tell you that that's the housekeeping rules tomorrow."
HM Courts Service said a contract for the provision of on-site catering services had expired in August.
Judge Mayo had told jurors on the Stanley Harrison murder trial that the Ministry of Justice had cut funding so much that no catering facilities could be arranged.
'Arrangements are in place'
He said: "Bring a packed lunch tomorrow so that you can have lunch when you like."
A spokesman for HM Courts & Tribunals Service said a national contract with caterers Eurest had expired on 31 August.
He said the service had "considered bids from national, regional and local companies to provide services after that date".
"Negotiations for a new catering contract at Northampton Crown Court are ongoing. While this is taking place the catering for court users is still being provided by the old contractor.
"Arrangements are in place from tomorrow (Friday) to ensure that sandwiches can be ordered in for jurors who are in deliberation."
For the first 10 days of their service, jurors are entitled to an allowance of £5.71 a day for food and drink if their day does not go beyond 10 hours.