Cosworth's 'high standards' mean new employees will be 'hard to find'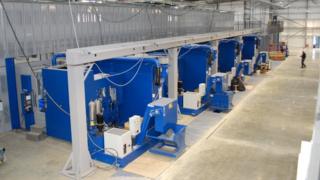 Twenty skilled applicants needed to fill roles at a precision engineering facility will be "hard to find," according to Cosworth.
The engine manufacturer is in the process of moving into a new unit in Northampton Waterside Enterprise Zone.
Seventy new jobs will be created as a result, with recruitment for 20 of those already under way.
The unit is Cosworth's sixth in the enterprise zone and already has £75m worth of orders.
Cosworth spokesman Pio Szyanowicz said the company had "high standards" and would find it hard to find people with the right skills set and experience.
He added: "That said we have to step up to the plate and help through training and making sure people can get the experience they need on the job."
Cosworth currently runs an apprenticeship scheme and a graduate intake programme.
The 20 jobs will be for team leaders and machine operators.
Machinery is currently arriving and being calibrated at the new 38,000 sq ft Advanced Manufacturing Centre, due to open in early 2015.
It will produce components for high-performance, limited production road vehicles.
Northampton Borough Council built the new facility and handed it over to Cosworth last week.
Cosworth chief executive, Hal Reisiger, said the unit would enable "global automotive manufacturers to produce some of the most advanced high-performance engines in the world".
Borough council leader David Mackintosh said the facility would "help demonstrate what Northampton does best - innovation, ambition and excellence".