Work on Northampton Town's East Stand project to resume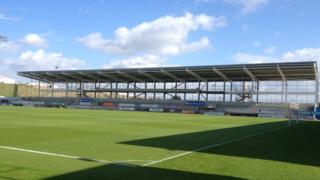 Work to redevelop the East Stand at Northampton Town's Sixfields Stadium is expected to resume next week.
The development, which will add up to 16 corporate boxes and increase capacity at the Cobblers' home from 7,653 to over 8,000, was halted in October due to a contractual dispute.
Chairman David Cardoza said the club will now work directly with builders to complete the project.
It is expected the stand will take three months to finish.
Mr Cardoza said the scheme was now over budget, but that would not impact on the plans.
Work on the project, part-funded with a £12m loan from Northampton Borough Council, started in March.
Mr Cardoza said the club would have "professional people working with us".
He said work would also be taking place to finish the West Stand. The club is also looking to increase the capacity of the North and South Stands.