Health services in Corby are 'worst-funded' in the country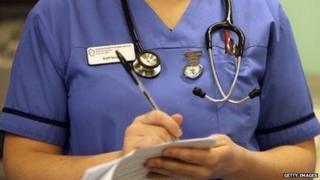 Health Services in Corby are the most underfunded in the country, according to the Government's public accounts committee.
Corby Clinical Commissioning Group (CCG) receives £137 less, per person, than the national target of £1,070, the new figures show.
GP Joanne Watt said health services in Corby were under "enormous pressure" and more savings would need to be made.
The committee's chair said underfunded CCGs were more likely to be in debt.
Margaret Hodge said: "About two-fifths of CCGs and three-quarters of local authorities are receiving more than 5% above or below their target funding allocation.
"This has important implications for the financial sustainability of the health service as underfunded CCGs are more likely to be in financial deficit.
"Of the 20 CCGs with the tightest financial positions at 31 March 2014, 19 had received less than their fair share of funding."
In comparison, patients in west London are allocated £361 per person more than the national target.
Corby MP Andy Sawford said the report made "shocking reading" for Corby residents.
"It is deeply unfair that nearly £500 more per person is spent on healthcare for residents in Chelsea, compared to Corby," he said.
"I am calling on the government to go back and rethink their allocations for next year and fund Corby's health services properly."
Corby CCG was given £84m in extra funding for 2015-16, the fourth highest of the 211 groups in the country.
But GP Joanne Watt said even with the increase, there would still be a shortfall of £2m that would have to be found through savings.
"It is really important patients get a fair deal," she said. "It is really important our patients do not have to deal with a postcode lottery.
"People should have the same to spend on their health, whether they live in Northamptonshire or any other county."