Wollaston fire at recycling site prompts safety warning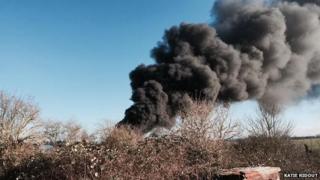 People living near the site of a "large fire" at a recycling centre are being advised to keep their doors and windows closed.
About 40 firefighters are reported to be at the site near Raymond Close, Wollaston, Northamptonshire.
The county's fire service tweeted to say eight pumps were in attendance. The blaze is believed to have started at about 12:40 GMT.
Stuart Ridout, who lives nearby, said: "The flames were huge at one point".
"Smoke is currently going up and over open fields," the fire service said.
BBC Northampton reporter Willy Gilder said the plume of smoke could be seen from Northampton, about 15 miles (24km) away.
"The unit on fire is a recycling plant, and it's mainly plastics burning - hence the dense black smoke being produced," he said.
"The biggest issue for the fire service has been trying to prevent the fire from spreading to a nearby building, believed to be a joiners' workshop."