'Lamentable' errors in Northamptonshire care case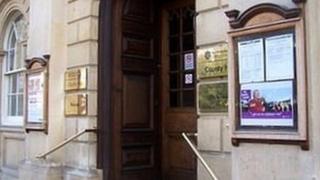 Social services bosses have apologised over a "lamentable" catalogue of errors in their handling of a case of a baby that was taken into foster care.
Mr Justice Keehan, at the High Court, said Northamptonshire County Council's social services had been "dismal".
It was told to pay damages of £12,000 to the boy and £4,000 to his mother.
The mother successfully sued the council over a breach of human rights - over the right to respect for family life.
The judge also ruled the boy must live with his grandparents in Latvia and ordered the council to pay them £1,000.
Staff had failed to undertake assessments of the mother who came to the UK from Latvia in 2012, the court heard.
They had also failed to undertake "any proper or consistent care planning", it was claimed.
"Neither the social workers, nor senior managers at Northamptonshire children's services department had the boy's best interests at the forefront of their minds," Mr Justice Keehan said.
"Their chaotic approach to this young baby's care and future life was dismal.
"The catalogue of errors, omissions, delays and serial breaches of court orders in this matter is truly lamentable."
A letter from the council explained an inexperienced social worker had been given the case in January 2013.
The boy had eight different social workers and a succession of managers who took a different view of care and this led to delay and confusion.
The judge did not identify the boy or his parents.