Paul and Sandra Dunham pursued for fraud money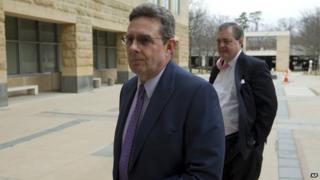 A couple who defrauded their employers to the tune of $1m (£652,000) could be forced to pay the money back.
Paul and Sandra Dunham, from Collingtree, Northampton, both pleaded guilty to fraud relating to their time at US firm Pace Worldwide.
Dunham, 59, was jailed for four years while his wife was given 18 days' home confinement.
Eric Siegel, of Pace, said he "intends to pursue" the Dunhams for a $1m forfeiture and $1m restitution order.
The Dunhams had fought extradition to the US, but were eventually flown there in May.
Mr Siegel, president and chief executive of the manufacturing firm, called the sentence "fair", saying "justice has been done".
He added: "However, there is a $1m forfeiture and $1m restitution order and we intend to pursue those against the Dunhams."
On Thursday, Dunham was sentenced to four years in jail followed by three years of supervised release.
Sandra Dunham, 58, had been given a 60-day sentence, reduced to 18 days' home confinement because of time served.
A US Department of Justice spokeswoman said personal expenses, falsely described as business expenditure, included "personal legal fees, expensive furniture and a domed pet residence".
Between 2002 and 2009, the pair charged personal expenses to their corporate credit cards when they worked for Pace, an electronics repair company.
After losing their extradition fight, the couple made arrangements with the US Attorney in Maryland, admitting conspiracy to commit wire fraud.
While in the UK, the Dunhams had taken their battle against extradition to the High Court and the European Court of Human Rights.
In May, they were taken to hospital on the day they were due to be flown out of the UK.
Later in the month, they were handed over to US Marshalls at Heathrow's Terminal Four.
The Dunhams' US lawyer Gary Proctor said the couple had been "through an extraordinary ordeal over the past five years".