Daventry Council green field homes row could cost £70k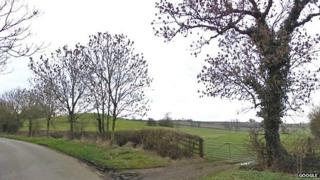 A legal battle over plans for 220 homes on greenfield sites in Northamptonshire could cost a council £70,000.
Plans to build 121 houses on land off New Street, Weedon Bec, and 99 homes near Rugby Road, Kilsby, have been proposed by Gladman Developments.
Daventry Council rejected the plans. One of its concerns was the loss of open countryside.
Gladman Developments said its plans aim to address a shortfall in the number of homes needed in the area.
But, the council plans to set aside £70,000 to fight the developer's challenge.
A report to the council's strategy group, which meets on Thursday, says it is "important to local residents and the planning committee that these appeals are properly defended".
In the case of the Weedon Bec site, Gladman says in its appeal there is a shortage of land in the Daventry area for housing and a shortfall in the number of homes needed over the next five years.
The council report says the authority has "attracted speculative planning applications for large scale housing developments" in rural areas partly because the council still has a "shortfall" in the districts' supply of land for housing.