Northamptonshire police officer 'saves baby's life'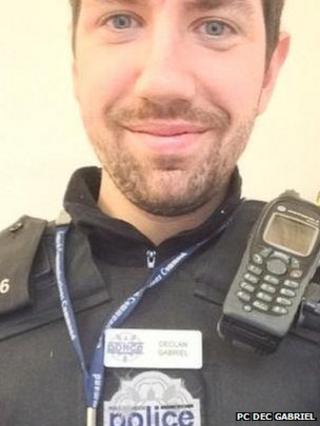 A police officer investigating a burglary saved a baby's life after hearing her mother screaming.
PC Dec Gabriel from Northamptonshire Police rushed to help the woman who told him her 12-month-old daughter Chloe was fitting and not breathing.
The officer gave the child first aid before taking her to hospital in his car.
Staff told him he had "saved baby Chloe's life", he said on Twitter. The child was recovering well, he added.
Mr Gabriel said he was "on a burglary containment tonight [Saturday] in plain clothes when I saw a lady screaming on the phone".
After identifying himself as an officer he went to the child's bedroom where he said he "scooped her tongue out" of her mouth to clear her airway before taking her to Northampton General Hospital.
"Ran into A+E and handed baby to a trauma team who have just told me I have saved baby Chloe's life," he wrote.
He later thanked the staff and the hospital and tweeted: "It was all about... teamwork, good training, good timing, and some luck!"
Commander Chris Greany, head of the National Police Coordination Centre (NPoCC), congratulated Mr Gabriel.
He tweeted: "No Oscar, goodybag, bright lights & front pages... but one day an adult will say, because of you I'm here today."