Work to begin on Northampton's Vulcan Works cultural hub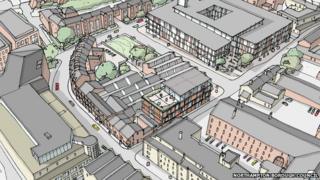 Work to convert a disused iron works and several run-down buildings into a cultural hub will start in the spring.
The £10.8m Vulcan Works project is at the heart of plans to create a Cultural Quarter in Northampton.
The buildings between Guildhall Street, Fetter Street and Angel Street were central to the town's shoe trade.
Northampton Borough Council says a managed workspace will be created for up to 100 businesses, sustaining 400 jobs over 10 years.
The Vulcan Works was built in 1875 for engineering company Mobbs & Co and was later turned into a leather warehouse.
The building has been largely empty since the late 1970s.
It is "considered one of the best surviving engineering works for the production of boot and shoe industry machinery", according to its Grade II listing.
The project will take about 18 months to complete.
A total of £3.3m worth of land, buildings and other assets are already owned by the council, while the bulk of the remaining cost has been funded by money from the South East Midlands Local Enterprise Partnership's Local Growth Deal Fund.
This money will be available from 2016/17.
Northamptonshire Enterprise Partnership will loan the money to the borough council to allow work to start.
The authority will also contribute £650,000 towards the project.
In January 2013, the council agreed to designate Guildhall Road and Derngate as the town's Cultural Quarter.
The latest plans will be considered at a meeting on 4 March, along with proposals to double the gallery space at Northampton Museum and Art Gallery and to move the Museum of Leathercraft into the Cultural Quarter area.
David Mackintosh, leader of the Conservative-run council, said he was "proud" to be taking the Cultural Quarter "forward to the next level".