Fraudster Paul Dunham due at North Carolina jail by 25 March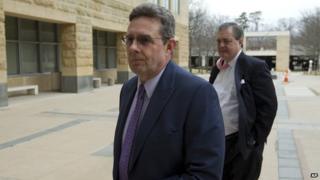 A fraudster who admitted a $1m (£652,000) expenses scam in the US will begin a jail term within a month, American officials say.
Paul Dunham, 59, from Northamptonshire, was extradited last May and later sentenced to four years in jail.
He was treated in hospital before he left the UK and has been kept under house arrest while authorities found him a place in a US jail.
Dunham must report to Butner Prison in North Carolina by 25 March.
The prison is 250 miles (400km) from where he is held in Maryland and he must make his own way there.
Other inmates include Bernard Madoff who defrauded people of nearly $65bn (£41bn) during 20 years as a crooked financier, as well as several Mafia bosses.
Dunham, who has an overnight curfew, was also sentenced to three years probation in February. His sentence will not begin until he arrives at the prison.
A US Department of Justice spokeswoman said: "Mr Dunham has continued under the same conditions of release as prior to sentencing."
Both Dunham and his wife Sandra admitted conspiracy to commit wire fraud.
Mrs Dunham was allowed to return to the UK after a period of home confinement.
Dunham, who pleaded guilty to an additional charge of money laundering, had faced a possible 20-year jail sentence.
The couple must also repay the $1m they stole.
The spokeswoman said personal expenses, falsely described as business expenditure, included "personal legal fees, expensive furniture, and a domed pet residence".
The pair charged personal expenses to their corporate credit cards when they worked for Pace, an electronics repair company.
Butner is a medium security prison with psychiatric and psychological therapy services.