Northampton Town footballers' cars stolen from Moulton College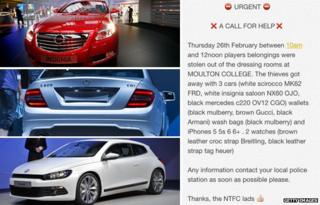 Footballers who had their cars, wallets and mobile phones stolen from a training ground have made a "call for help" on social media.
The car keys and other items belonging to Northampton Town players were stolen from a Moulton College changing room.
A white Vauxhall Insignia, a black Mercedes C220 and a white Volkswagen Scirocco were taken on Thursday.
A message from the "NTFC lads" asks for anyone with information to contact the police "as soon as possible".
The players said the thieves also got away with three wallets (black Mulberry, brown Gucci and black Armani), four iPhones, two watches (TAG Heuer and Breitling) and black Mulberry wash bags.
They were stolen from the college, which is used as a training facility by the League Two club, between 10:00 and 12:00 GMT.
The registrations for the cars are MX60 OJO for the Insignia saloon, OV12 CGO for the Mercedes and MK62 FRD for the Scirocco.
A call for help was posted on Northampton Town's Twitter account on Sunday, with the message: "With lads going so well, it would give them a huge boost if we could recover stolen items."
Northamptonshire Police asked for anyone with information about the theft or the whereabouts of the cars and other items to come forward.