Man seen 'waving at M1 drivers' from underneath lorry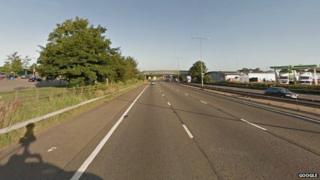 Two suspected illegal immigrants have been detained after one was spotted waving at motorists while sitting on the rear axle of a lorry.
A motorist reported seeing the man waving at him near junction 15 of the M1 northbound, Northamptonshire Police said.
The lorry was stopped and two people were found underneath it.
Both have been detained on suspicion of illegal entry into the UK, the force's road policing unit said.
Officers followed the lorry, which they described as "an LGV with the male underneath... travelling at 55mph".
It was pulled over near junction 16 for Watford Gap and the two men held by police.
A force spokesman said it was "miraculous" neither of the men - believed to be from Albania - had sustained any injuries.
The driver of the lorry was not thought to have been involved and was allowed to continue with his journey.