Don't be a Tosser campaign starts in Northamptonshire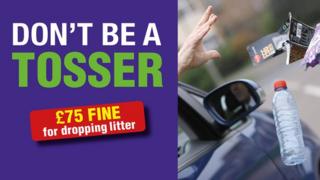 An anti-litter campaign using the slogan "don't be a tosser" - branded inappropriate by a local council - has begun in Northamptonshire.
The Northamptonshire Waste Partnership said the "powerful play on words" would help send a message to motorists who throw rubbish from their vehicles.
Posters will be added around the county, warning offenders they face a £75 fine if caught.
But Northampton Borough Council said it would not be supporting the campaign.
Councillor Mike Hallam, cabinet member for the environment, said litter was an "important issue".
"This particular campaign has been used in other parts of the country, but isn't one that we will be supporting," he said.
"I get that it is a light-hearted play on words, but it doesn't fit with our approach.
"I think it would be inappropriate for us to promote good citizenship and good manners if we then use this kind of language."
Don't be a Tosser was used as an anti-litter message in Australia before it was spotted and adopted by BBC Radio Suffolk presenter Mark Murphy, in 2008.
It has since been used elsewhere in the country.
The Northamptonshire Waste Partnership, which is made up of different councils in the county, said the slogan would help spread the anti-litter message in Corby, Daventry, East Northamptonshire, Kettering, South Northamptonshire and Wellingborough.
Chris Millar, chairman of the partnership, said: "Our campaign headline 'Don't be a Tosser' is a play on words that's designed to attract attention and get people thinking and talking about the problem of litter from vehicles.
"It's used alongside an image of someone tossing their litter from a car, emphasising the meaning of the word in the context of our campaign."
The partnership said councils in the county spent £4.5m a year on cleaning up litter.
It did not want to comment on Northampton Borough Council's decision not to join the campaign.