Northamptonshire council disabled care policy 'flawed'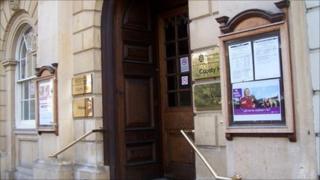 A disabled woman may have paid too much towards her care because the way her council works out charges is legally flawed, says the High Court.
KM, who has severe learning disabilities and lives at home with her parents, won the ruling against Northamptonshire County Council.
The court found the council was "exaggerating" contributions sought from KM.
The council said its charging policy was "legally robust and fair".
Lawyers for 35-year-old KM, who cannot be identified for legal reasons, said her legal victory should clarify the law and end the problem of inconsistent policies across the country on the level of contributions vulnerable people have to make.
Mr Justice Gilbart, sitting in London, said the council's current method of calculating charges under its "fairer contributions policy" was legally flawed and "adds about one third to the current level of contribution".
'Important decision'
The judge said the policy "may affect large numbers of others whose contributions are also being exaggerated through NCC's failure to apply the national guidance or to make its policy sufficiently clear".
Anne-Marie Irwin, who represented KM, said: "This is an important decision which showed that she was being charged more by her local authority than the law allows.
"The ruling means she retains more of her own already limited income in order to get the best from life and meet the needs she has as a result of her disability."
A spokesman for Northamptonshire County Council said: "While there was an issue over the application of government guidelines on the relevant regulations the county council did have the discretion to do otherwise providing that this could be justified.
"The consequence of the decision is that the county council has been given some time to reconsider what is one element of the policy and see whether it wishes to continue with that stance, despite there being a potential difference in the government guidance.
"We will review the policy and decide if any changes should be made, just as we do on a regular basis."