Northampton Town player's stolen car found after appeal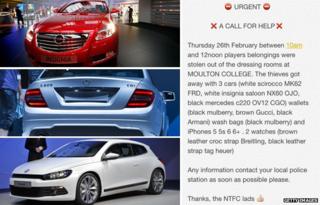 One of three cars stolen from footballers while they were training has been found after players issued a "call for help" online.
Northampton Town players had cars and other items including phones and watches taken from Moulton College during the session on 26 February.
The Vauxhall Insignia was found in Northampton last week. A black Mercedes C220 and white Volkswagen Scirocco have yet to be found.
No arrests have been made, police said.
Four iPhones, three wallets, two watches and wash bags were stolen from the changing room of the college, which is used as a training base by the League Two club.
Northamptonshire Police did not want to elaborate on details about the recovery of the Insignia, but said the vehicle was being inspected by officers after it was found in Northampton.
The registrations for the other cars are OV12 CGO for the Mercedes, and MK62 FRD for the Scirocco.
Players issued an appeal for the stolen vehicles, addressed from the "NTFC lads", on social media.