Northampton St Edmund's Hospital plans for elderly care complex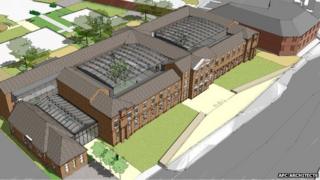 Planners are considering proposals to turn a derelict hospital in Northampton into a care complex for the elderly.
A planning application for the Grade ll listed former St Edmund's Hospital site in Wellingborough Road has been submitted by Cypriot-based Kayalef.
Spokesman Ashley Riley said developers aimed to convert the building for 21st Century use and that was a challenge.
Much of the building designed by architect George Gilbert Scott in the 19th Century will be retained, he said.
The hospital and former workhouse was closed in 1998 and has since become a target for vandalism.
Plans will preserve the site's historic archaeological importance and will ensure conservation is at the heart of its work and its future development, Northampton Borough Council said.
"We have been supporting the developers in finding a way to bring St Edmund's back into use.
"St Edmund's has become a real eyesore, and breathing new life into the building can only be good for the town."